DISCOVER YOUR BEST BREAKFAST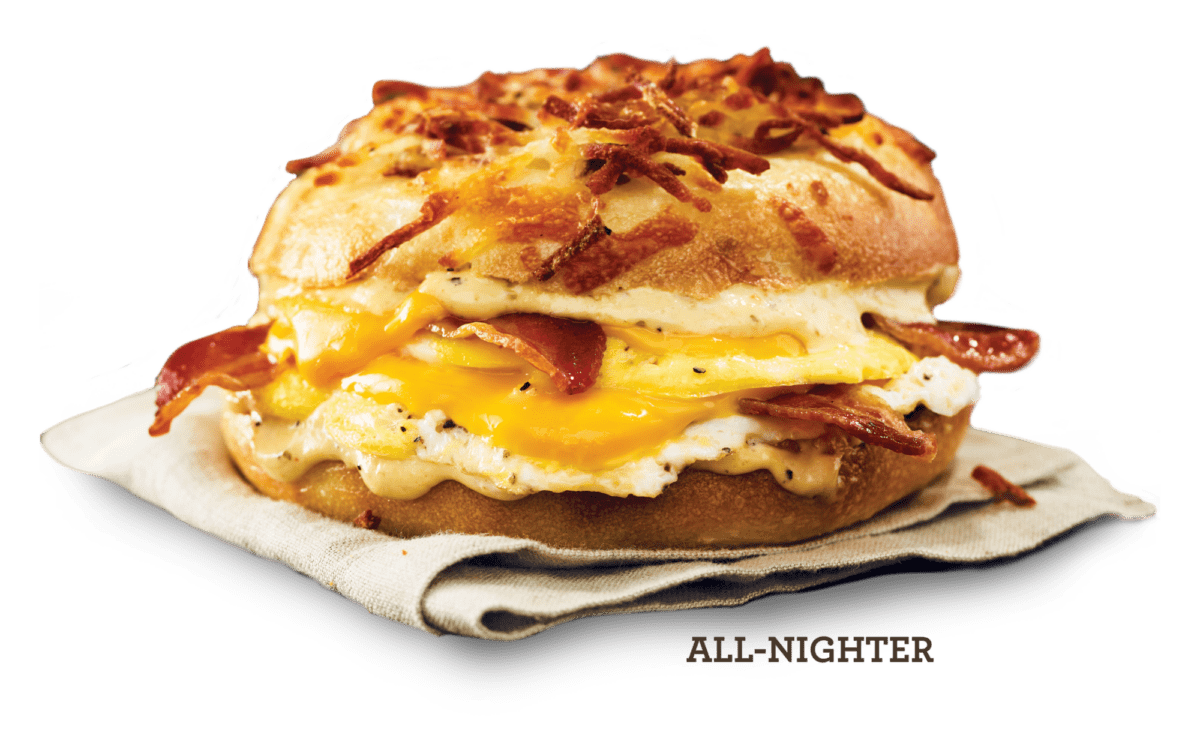 WHEN THE OVEN OPENS
As you see a tray of fresh-baked bagels make its way out of the oven, you hear the promise of a delicious breakfast whispering in your ear. The thought of a fresh-out-of-the oven bagel, hugging your favorite breakfast sandwich, makes your mouth water and your stomach holler in anticipation. You know things are about to get really good. What delicious breakfast sandwich will you choose today? Hint: there are no wrong answers.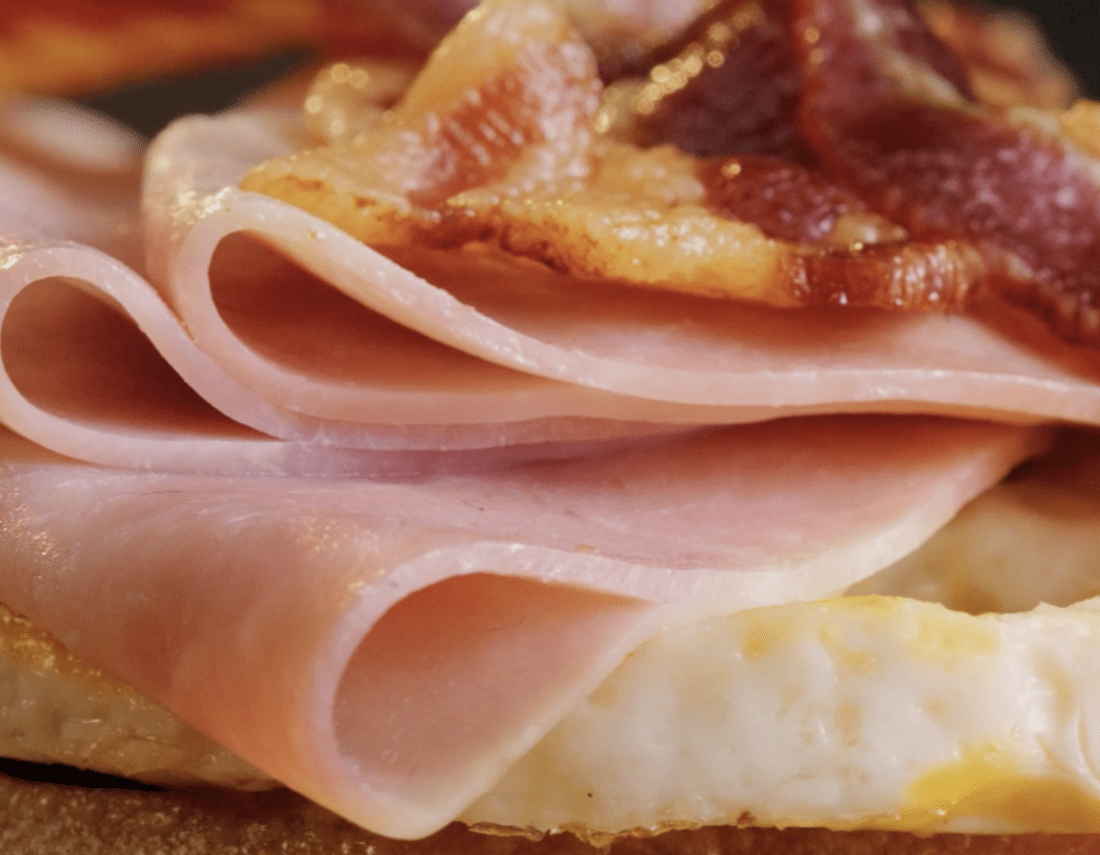 FARMHOUSE EGG SANDWICH
From farm to bagel. Straight-out-of-the-oven Cheesy Hash Brown bagel, that is.

Cage-Free Eggs • Thick-Cut Bacon • Smoked Ham • Cheddar Cheese • Country Pepper Cream Cheese Shmear • Cheesy Hash Brown Gourmet Bagel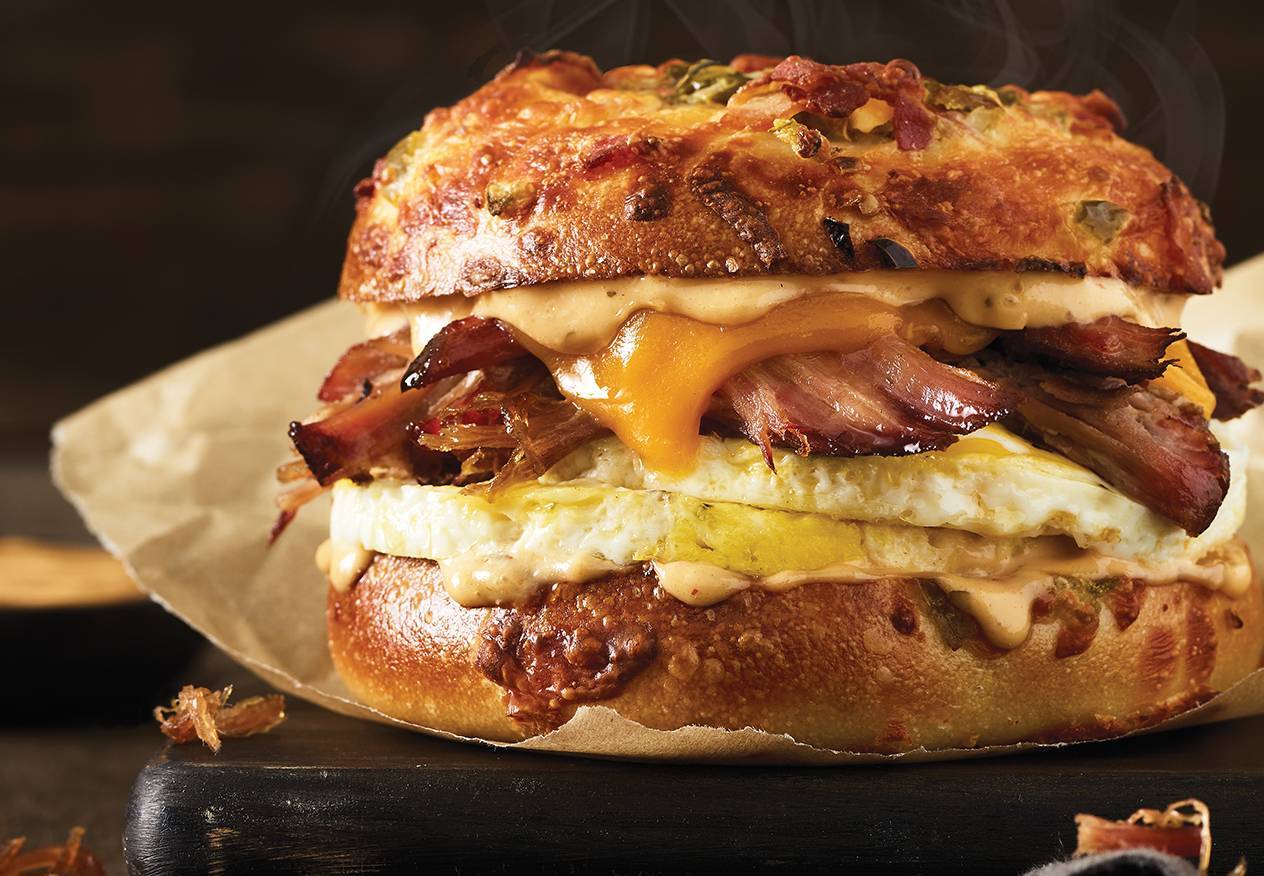 TEXAS BRISKET EGG SANDWICH
No one but you will hear your taste buds yell "Yee-haw!" Promise.

Cage-Free Eggs • Slow-Smoked Beef Brisket • Cheddar Cheese • Chipotle Aioli • Jalapeño Bacon Gourmet Bagel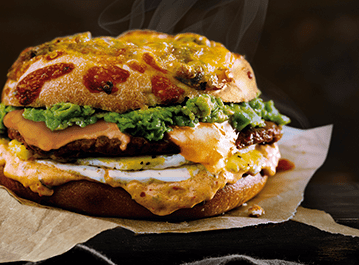 CHORIZO SUNRISE EGG SANDWICH
A fiesta that you never want to end... it tastes like that.

Cage-Free Eggs • Chorizo Sausage • Avocado • Cheddar Cheese • Jalalpeño Salsa Cream Cheese Shmear • Green Chile Gourmet Bagel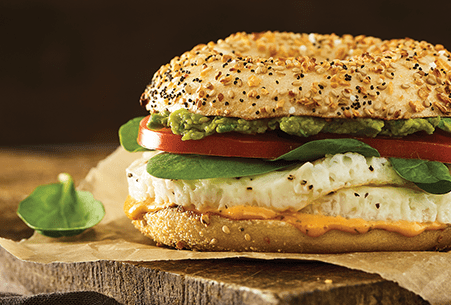 GARDEN AVOCADO EGG SANDWICH
The day has finally arrived...you look forward to eating your veggies.

Cage-Free Eggs • Avocado • Tomato • Spinach • Roasted Tomato Spread • Everything Bagel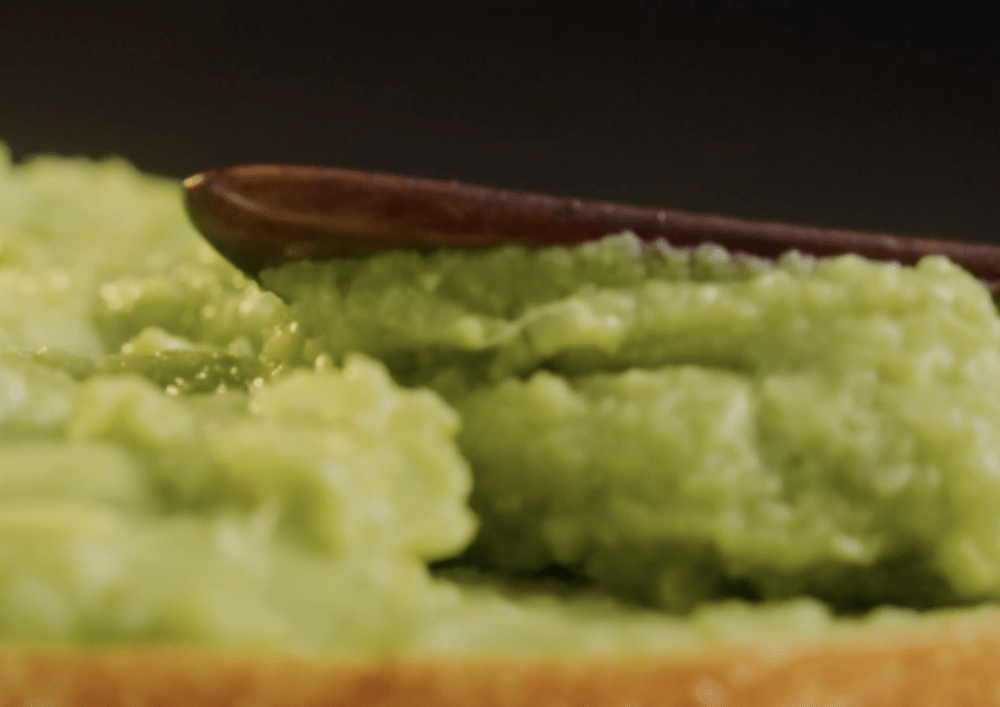 BACON, AVOCADO & TOMATO EGG WHITE
Bacon. Avocado. Tomato. (mic drop)

Cage-Free Egg Whites • Thick-Cut Bacon • Tomato Avocado • Roasted Tomato Spread • fresh-baked thin bagel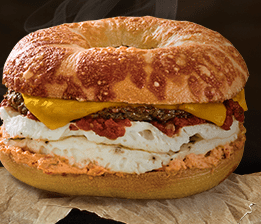 SANTA FE EGG WHITE
Heavy on flavor. Light on everything else.

Turkey-Sausage • Cage-Free Eggs Whites • Roasted Tomato Salsa • Cheddar Cheese • Jalapeño Salsa Cream Cheese Shmear • Thin Asiago Bagel
ORDER AHEAD
EASY ORDER. QUICK PICKUP
Now, discover your best breakfast with a click. Order online from einsteinbros.com or download the app. It's almost as easy as hitting the snooze button.
ORDER ONLINE
DOWNLOAD APP
SHMEAR SOCIETY
ENJOY BAGELS WITH BENEFITS
Interested in earning points towards tasty rewards every time you visit? Does a Free Bagel and Shmear* when you sign up strike your fancy? What about Free Coffee every time you order in the app or an $8 Baker's Dozen every Monday? If the answer is yes, sign up for Shmear Society Rewards now.
SIGN UP
*Menu varies by location. Free Bagel and Shmear with purchase.